By Dustin Cabeal
Wow, they're just getting back to this huh? I honestly forgot about the "mystery" surrounding the rebirthing of DC. Still not sure how the Comedian's button fits into everything... because wouldn't he be dead? And if I fucked with your universe, why would I leave a calling card? Whatever, I hope you're in love with Tom King like everyone else is because DC got tired of waiting for Johns to write this shit and gave it to King.
From DC Comics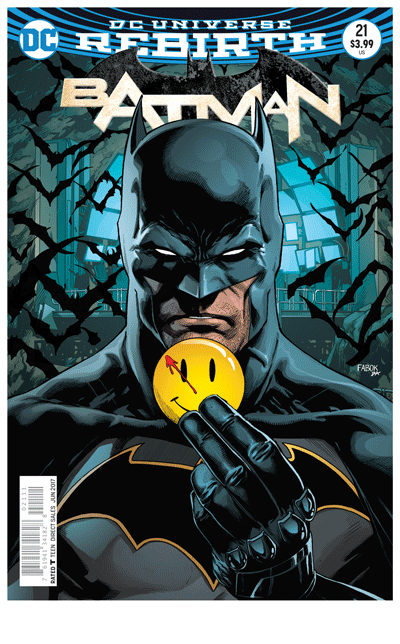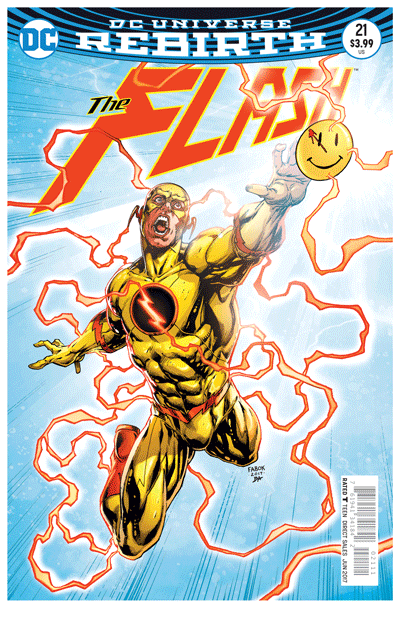 If you've been wondering about how the mystery behind Geoff Johns' DC UNIVERSE: REBIRTH #1 continues, you'll find out more beginning this April in "The Button," a four part story arc in issues #21 and #22 of BATMAN and THE FLASH.

Courtesy of the Batman team of writer Tom King and artist Jason Fabok, along with The Flash writer Joshua Williamson and artist Howard Porter, the two greatest detectives in the DC Universe unite to unravel the mystery behind a certain blood stained smiley face button stuck in the Batcave wall. However, what begins as a simple investigation soon turns deadly when the secrets of the button prove irresistible to an unwelcome third party – and it's not who anyone suspects! This is a mystery woven throughout time, and the countdown starts here!

In addition to the standard $2.99 covers on Batman and The Flash in late April and early May, each of the four issues will feature a special $3.99 lenticular cover, all drawn by Jason Fabok. Don't miss the chance to find out more about the mysteries behind DC REBIRTH when these issues hit your local comics retailer beginning April 19!