By Dustin Cabeal
Co-Founders Michael Ruiz-Unger & Tucker Tota have put together a comic book contest in the vein of a movie contest. That's the best way to look at this competition because frankly, there's not many, if any, others out there like this. We're a sponsor in that I'll be reviewing the winners of the contest. To be clear, I'm not judging the contest. No, that's an impressive list starting with Jason Aaron and ending with Max Sarin. You can read the full list and get all of the details by visiting GhostCityComics.com and let me tell you, you should do that. If you have an entry then get it ready for submission on the 20th of this month.
Frankly, at first, I was confused by what I would even contribute to this contest. To be honest I have no clue how this site is perceived outside of my own little bubble on the internet and I'm fine with that. After seeing the complete list of prizes I totally get it. It's a huge premiere party for your comic. With prizes, feedback, reviews and interviews with the real chance of a publisher picking up the book. There's where the film comparison comes in, but the big difference is that your comic has a way better chance of succeeding than a festival or contest winning film. Keep that in mind and really give it you're all on this because I think it has legs, otherwise, I wouldn't sponsor it with our name and my time.
Below you'll find the winners information and you can than Ruiz-Unger and Tota for having this all put together and locked down. Good on them. Again, head over to GhostCityComics.com to check out all the submission details and be ready on the 20th!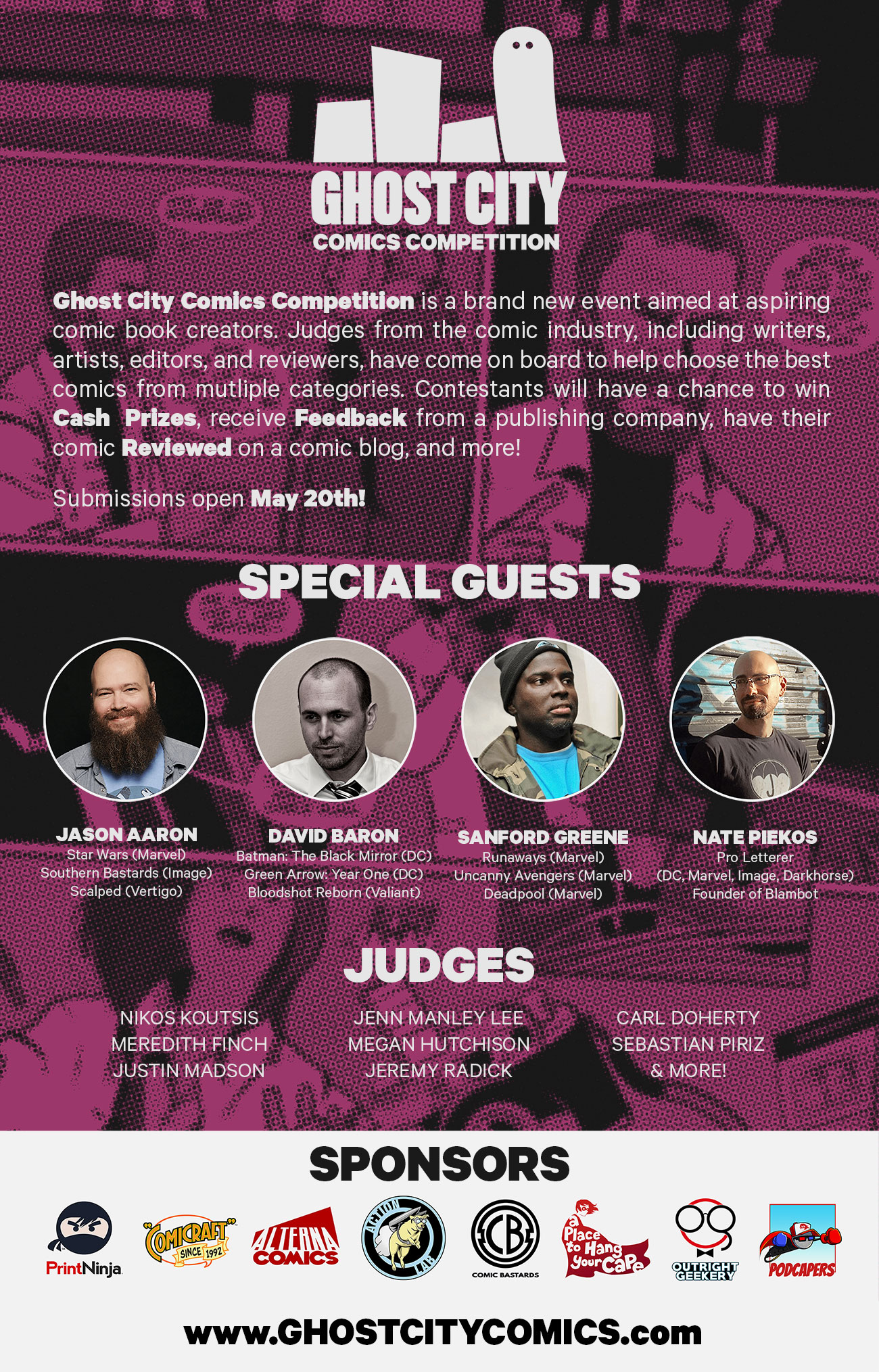 WINNERS
CASH PRIZE:
One Page Comic — $300
Short Story — $500
Single Issue — $700
+
$30 Comixology Gift Card
Publisher Feedback from ACTION LAB COMICS
Review from COMIC BASTARDS
Review from OUTRIGHT GEEKERY
Podcast interview on PODCAPERS
RUNNERS UP
$20 Comixology Gift Card
Review from OUTRIGHT GEEKERY
Publisher Feedback from ACTION LAB COMICS
FINALISTS
(top 10 comics from each category)
Publisher Feedback from ALTERNA COMICS
Review from A PLACE TO HANG YOUR CAPE
BEST WRITING / ARTIST /
COLORIST / LETTERING
$20 Comixology Gift Card
+
BEST WRITING
Writing feedback from JASON AARON
(writer for Marvel, Image, Vertigo)
BEST ARTIST
Art feedback from SANFORD GREENE
(artist for Marvel, DC, Dark Horse)
BEST COLORIST
Coloring feedback from DAVID BARON
(colorist for DC, Vertigo, Valiant)
BEST LETTERING
Lettering feedback from Nate Piekos
(letterer for Marvel, DC, Dark Horse, Image)
👻 MYSTERY AWARDS 👻
GIFT CARDS FROM:
Think Geek
Comicraft
Comixology